Guestroom Key Cards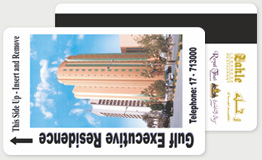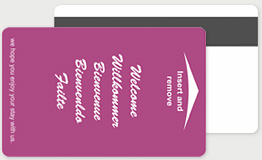 Custom Printed Key Card
Make a powerful impression at check-in time. The key card is the first thing a guest gets on checking in. With our economic low cost offerings, custom key cards can open much more than hotel locks. They not only project a differentiated classy customised high profile image, but serve as a valuable tool to promote your property. Advertising tie ups with local establishments can help subsidise costs. We can offer custom printed keys for almost all major lock brands and across all technologies.
Generic Key Cards
We offer a vast array of generic hotel keycards. These keycards are designed to promote the quality of service provided by the hotel industry and to reflect an image of both quality and style. They are a much better option than using plain white cards or screen printed cards that may get rubbed off with use.
Hotel Chain Cards
We produce cards for all major hotel chains and can either produce based on the graphic branding requirements of the chain or alternately customize your unique graphics.
Our keycards are compatible with most magstripe cards-encoded guestroom locking systems. We also offer the complete range of RFID and PROX based contactless card technology card systems. Typical lock brands that we produce keys for are TESA , ILCO , VINGCARD, CISA, SAFELOK, SARGENT, ONITY. All our keycards are 100% guaranteed to meet or exceed ANSI specifications and are ISO 7801

All plastic hotel key cards are 100% guaranteed and are compatible with all hotel guestroom locking systems.